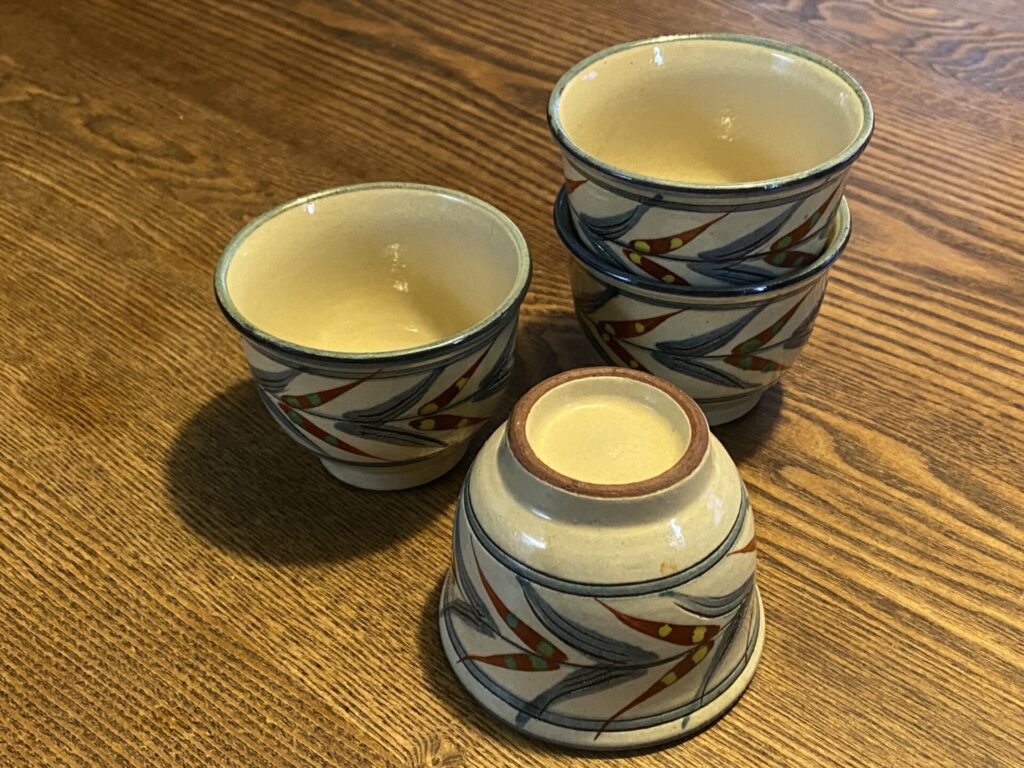 In Okinawan parlance, pottery is called yachimun. And those who came before tell us that anything baked in a kiln is "born" from that kiln. Each time objects are placed in the kiln fires to bake, potters place their palms together in prayer to the god of fire and intone "Umarashimi sōre." "Let the work be safely born." A message delivered to the fire god with repetition, determination, and purpose. The resonance of these two uchinā words sinks deep down into my soul, and now, twenty-five years after I began making yachimun in Okinawa, these words have become the pillars of my heart.
Okinawa has a unique culture and topography, which means it exists in a different world than Japan. And within this world twenty-five years ago, there were tsuboya–ware potters who accepted my apprenticeship and took me in with honesty and kindness, their manner as natural as the air. Warm, calm air. Looking back on it, I can see how the kindness of those tsuboya potters helps me create my own yachimun and resides in each vessel I make. Among all the arts, yachimun is the art we most come in contact with in our day-to-day, which you can see in the ceramic boom of recent years.
As ceramics boomed, so too did awamori. So entwined are alcohol and ceramics that I can scarcely speak of one without referencing the other—yachimun was born, after all, from the need for a vessel to store alcohol. Naturally there are standard Japanese forms for pots and bottles for alcohol, but in uchinā, there are also phrases for our unique shapes: karakara, dachibin, yushibin, and oni no ude1—the demon's arm. Awamori was introduced to Okinawa via imports of textiles and lao khao from Thailand and Southeast Asia. Shipments entered via Nagahama Harbor in Yomitan, which is also close to the village where yachimun is produced.
In Kina in Yomitan, there are also archaeological remains of kilns which date back to the same era. And now, in this land, new fires are lit in the kilns, with nearly forty households maintaining the fires of pottery.
Okinawans love festivals, and year round, there are events all over the islands, including numerous ceramics events. Through these, I have the sense that the essence of the yachimun form will change as artists are invited to festivals to present earthenware intended as souvenirs.
Through craftsmanship, new ways for people to connect are born.
In addition to the sake bottles and tableware I make, on occasion, rock and jazz musicians have asked me to produce ocarinas or ceramic drums and percussion, and sometimes I have also made new instruments and asked those same musicians to use them. The new friends I've made go on to make new musical sounds and those sounds touch the hearts of others. I go to their concerts, alone, listening secretly and softly with joy to that new timbre.
Within yachimun there are those objects which surpass human hands and make you feel the very breath of the maker's soul. I wonder how many contemporary yachimun pieces set the flowers of peoples' hearts abloom.
Even now in Okinawa, there are communal kilns burning. Back in the age of tsuboya potters, each individual potter family brought pieces for firing and placed them within the heart of their designated kiln space in the climbing kilns, which are stepped in a line up a hill. Then those potter families each took turns minding the kiln fires. This is the spirit of Okinawan yuimāru.
The one thing which simply cannot be separated from yachimun is food. Uchinā chanpurū—a stir-fry dish meaning something like "a bit of this and that"—has a big fanbase. Our earthenware has been influenced by China, Korea, Southeast Asia, and Japan. It's a bit of this and that from everywhere—a uniquely Okinawan chanpurū, or as we would say "uchinā bikēn chanpurū." In the future, too, chanpurū culture will no doubt continue to lead to new developments in yachimun.
Uchinā yachimun, my yachimun, is not made with only my two hands. It is born out of a collective prayer. "Umarashimi sōre."
Editor's Note:
Vessels to drink alcohol:
karakara – a pot to pour alcohol from when drinking it, with a thin spout and a rounded body.
dachibin

– also a pot to pour alcohol from. It's hung on a string and has a curved shape so that it can be slung from the carrier's shoulder and onto their waist.

yushibin

– a gourd-shaped alcohol pot, used for festivities.

oni no ude

– an alcohol pot which resembles the tokkuri, Japanese sake bottle.