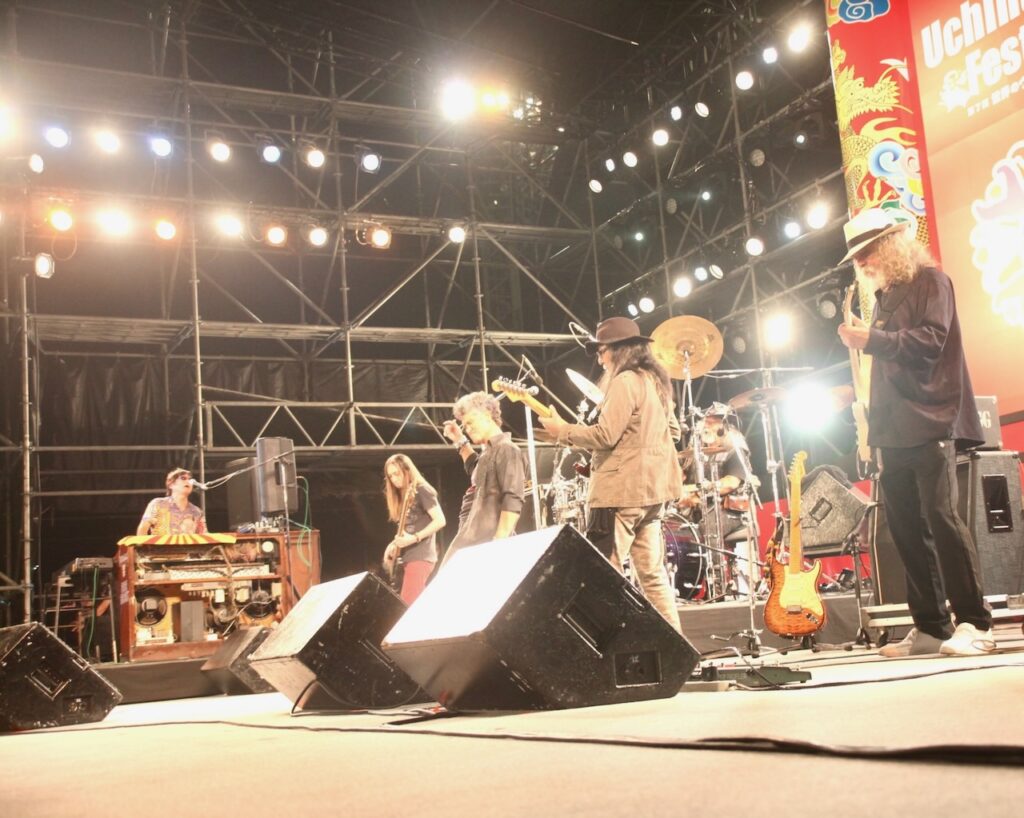 Okinawan rock first started by copying American and British rock. It aimed to draw audiences of American soldiers and young Okinawans who experienced American culture in close quarters. From the mid-60s to the 70s, the kinds of songs people played changed alongside American music scene tastes.
From this musical environment, the British band Deep Purple emerged. George Murasaki was particularly moved by the quality of John Lord's music, a fusion of hard rock and classical. This kind of music would give birth to what you might call the backbone of Okinawan Rock.
Murasaki, spearheaded by George, performed a concert where they covered Deep Purple's "Highway Star" and "Smoke on the Water." These went off so coolly that they became part of the Murasaki's set list thereafter.
Building out from Deep Purple's sound, Murasaki went on to write their famous songs, "Double-dealing Woman" and "Do What You Want." Bass and drums pounding out eighths and sixteenths, shouting vocals, running guitar with a whiff of the blues, and keyboard melodiously layering over the whole thing. It was the birth of original Okinawan rock. Their songs won the approval of American soldiers.
On August 8, 1975, the band made their mainland debut at the "8/8 Rock Day Music Festival" held at what was formerly the Osaka Expo '70 site, where they received a standing ovation from the audience. Powerhouse professional and amateur bands alike appeared at the concert, and the album made from the live recording was a smash with the rock fans of Okinawa. It was the first time they'd ever been able to compare Okinawan and mainland bands on one singular vinyl. They could tell just by one listen it was, dare I say, obvious the mainlanders were losing, and it made Okinawan fans puff out their chests as if to say, "How d'ya like that?"
Murasaki's first album, MURASAKI, came out the following year, and even in an era when everyone said rock couldn't sell, they broke records with fifty thousand units sold, and maintained their position on top until they broke up in 1978.
After the Murasaki break up, some of the members formed a new band called Okinawa. In addition to writing famous songs like "Magic Mountain Way," they also expanded the breadth of Okinawan rock by incorporating Okinawan tunes and melodies in songs like "Fly Away."
Murasaki temporarily reunited in 1983, and after Okinawa's final gig at the 1986 "Peaceful Love Rock Festival," the reborn Murasaki played the stage. They continued working in the music industry for a time, but eventually each member broke off to pursue their own musical interests.
Since then, when the occasion arises, the original band members play together, thrilling their fans.
Murasaki's rock remains famous even now, with, according to NHK Music, nine albums with numerous reissues.1
Editor's Note:
In 2016, the album QUASAR was released to celebrate their 40th anniversary. In January 2023, a documentary film, MURASAKI, was given a Japan-wide screen release.