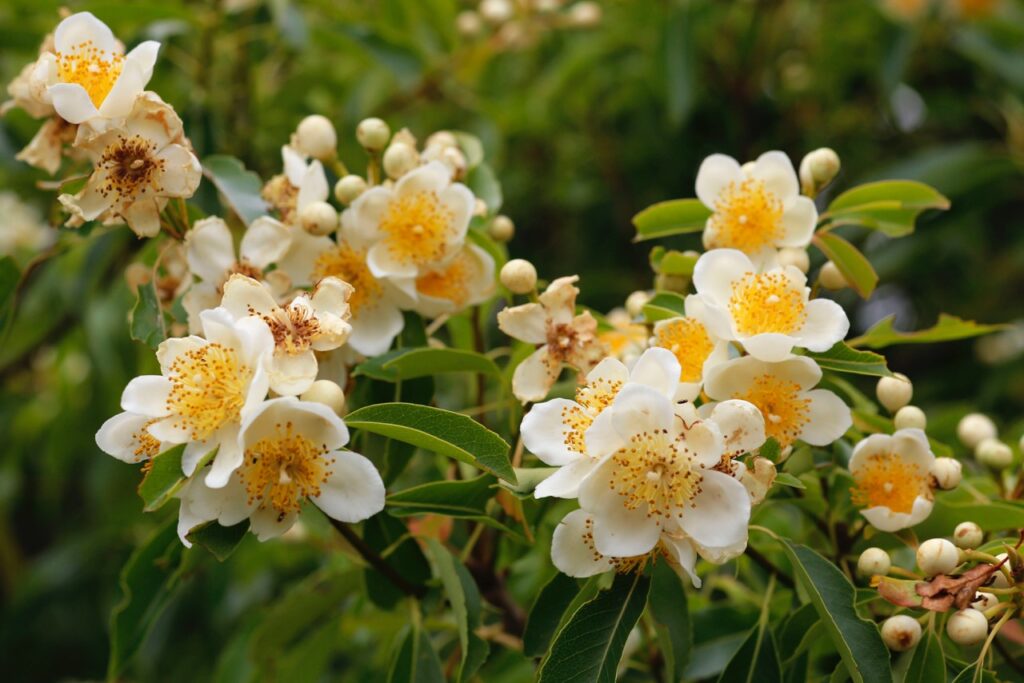 The song of kukkaru (ruddy kingfisher) brings the nagashi (rainy season), and when the flowers of iju blooms comes the peak of this season.
The whiteness of iju flowers stands out bright in the heavy clouds of the rainy season.
Iju no ki no hana yayo
An churasa sachiyori
Wagamin iju natuti
Mashiro sakana
Here's a flower of a tree of iju
How they bloom sweetly
I wish to be an iju
To bloom so purely white
This is a lyric from the Ryukyu folk song, "Benoki Bushi." Deeper in the mountains iju trees grow larger and the flowers crown the treetops finely. How can one not wish to bloom pure like a flower of iju?
Iju is an indigenous tree of Okinawa. It grows in Amami Oshima at the northernmost, while its elementary species range from the Himalayas to Malaysia. In Amami Oshima, a unique type of raised-floor storage are build for which the iju trees were used as pillars. They were treasured as well for dugout canoes, kyakuro—a short supporting pillar—or the main pillar of a dwelling. "We used to say a good house is one that used hitotsuba (fern pine) for the exterior and iju or akamomo (Ternstroemia gymnanthera Sprague) for the interior. Iju cannot stand the rain once it's lumbered. It rots instantly. So, it's not for the exterior. We have to season it for over ten years to make a storage pillar, or else it would rot or deform"; this is what a carpenter of my acquaintance has said.
The heart of a iju tree has a smooth touch, hence many thought it perfect for making the neck of a sanshin. The funny story is that then the neck warps as it is played to the point it becomes useless. "When you don't know the nature of trees, you make such mistakes," said that carpenter.
I grew up in Amami, for which the name of iju reminds me right away of eel fishing. We peel and pound this tree in a mortar until it bubbles up. Then we put in a mat-rush sack and wash it off from the upstream. As we walk down the stream, eels crawl out from gaps in a stone wall or between the rocks. Such eels are tottering, poisoned by the iju. Apparently, it affects their eyes, making them white and cloudy after a while. We caught plenty of them. There is a tip to capture the eels. You cannot grab them, they would just slip out, and you'd never get them. Grown-ups stuck out their middle finger to hold the eel's body and swiftly threw them in a bucket. We, the children, scooped out the eels with the water using our two hands towards the riverbed.
The clouded eyes of the eels gave me a bit of an eerie feel.
In turn, the toxicity of iju trees was also a medicine. At a time when chemical fertilizers did not yet exist, and it was made of compost or human excrement. Walking in a field barefoot gave us a kyūme, due to the fertilizer. We would get an itchy skin rash on our feet which would become sore. We mixed iju's sap with water and soaked our feet to cure it. Back then, there was a variety of skin diseases. The venom of iju was miraculous in its effect on all of them.