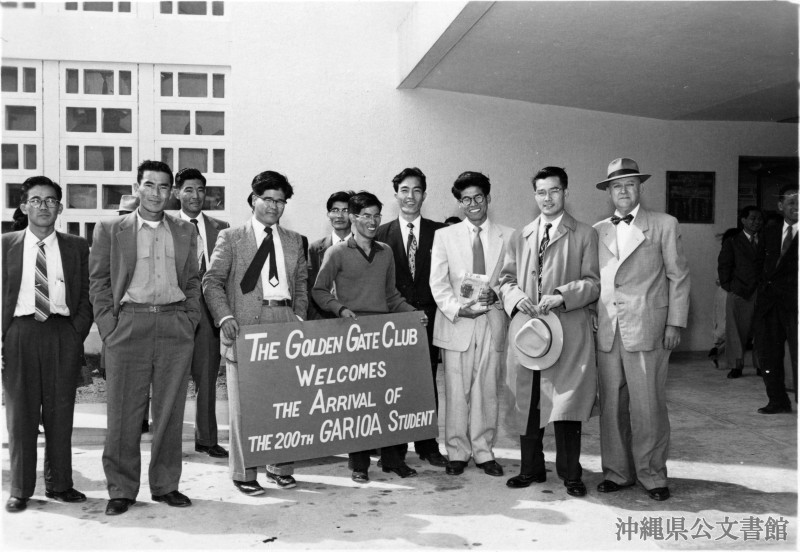 The American study abroad program by the Government Aid and Relief in Occupied Areas (GARIOA) started in 1949. This program was conducted in mainland Japan as well, however, it held a greater significance in Okinawa where it was under the direct rule of the United States for long and had a much larger number of students studying abroad compared to its population. GARIOA was soon replaced with the Fullbright Scholarships. From 1949 to 1970, 1089 young Okinawans studied in American universities.
In 1952, returning students formed an organization for mutual friendship, the Golden Gate Club. Its name is taken from the Golden Gate Bridge in San Francisco, where the first students who sailed across the Pacific went through to enter the United States.
Most of the Golden Gate Club members followed their path as an elite in Okinawa. A considerable number of them held important posts at the Bank of The Ryukyus, The Bank of Okinawa, the Okinawa Electric Power Company, the University of the Ryukyus, etc. As a matter of fact, it is still the case today. An example is the former governor of Okinawa, Ota Masahide.
The height of the Golden Gate Club was around 1958 to 1964. American-style parties were frequently held at the Harbor view Club, a U.S. military installation. The Golden Gate Club as a society had never participated in any political activities, yet many among the people considered the club to be the "American bodyguards."
It is quite interesting what the elites of the Golden Gate Club members thought and did at the most arduous age of Okinawa. Kinmon Club by Kinjo Hiroyuki (published by Okinawa Bunko) is a suitable reading to explore its outline.
The activities of the Golden Gate Club have diminished after the reversion in 1972. In 1982, the Club was dissolved and absorbed as the GARIOA/Fullbright Alumni Association.