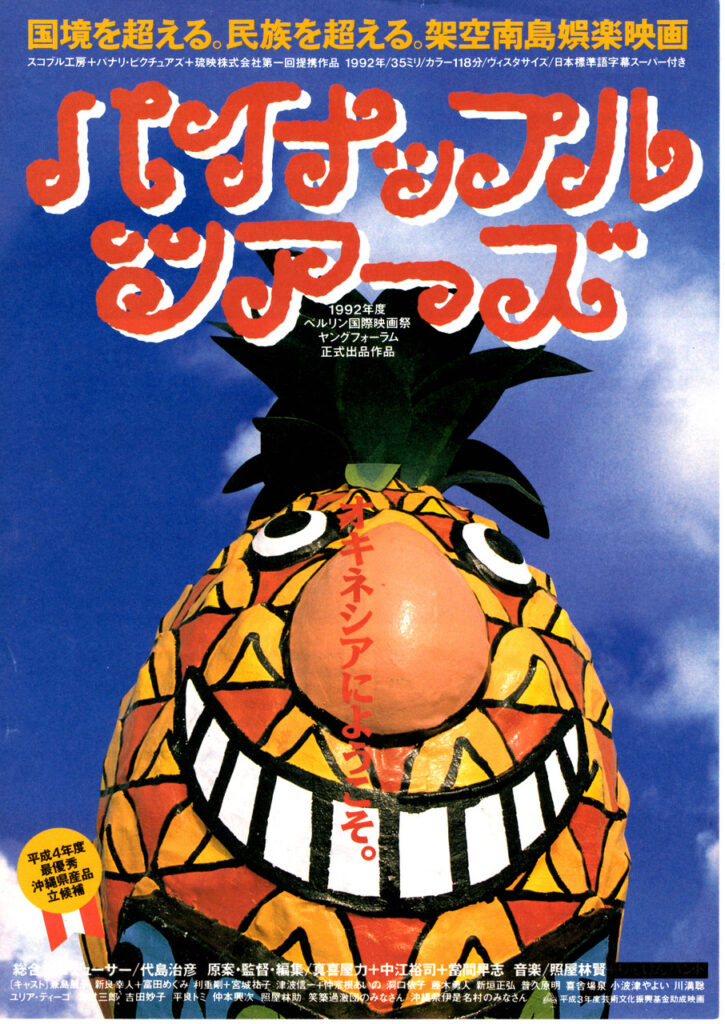 Movies shot in Okinawa, movies set in Okinawa, movies about Okinawa—what a bother, let's call this "Okinecima" (my coinage). So, this Okinecima. According to some research I did, Shūnen no Dokuja (A White Mural, 1941) seems to be the earliest example of Okinecima. This is a silent ghost movie written and produced by Toguchi Seizen, an Uchinānchu (Okinawan) and a returned emigrant from Hawaii. I saw it in 1988, at a revival showing in Shimpō Hall. The movie was accompanied by a narration by Kitamura Saburo, an actor in Okinawan theatre. I hoped to see some views of what Okinawa looked like back then, although most of the scenes were indoors and the story seemed to have little to do with Okinawa. The direction was artless and the quality could be better, but let's say it was OK, considering Kitamura's entertaining narration. It was directed by Yoshino Jiro, a man well-known for his speedy shooting. Another Okinecima he shot on the mainland of Okinawa is Shiroi Hekiga (A White Mural, 1941), featuring Tsukigata Ryunosuke with a story set in Yaeyama.
From the end of World War II until the 1960s, films were made by Okinawan theatre groups. I heard that films were often incorporated into their stage plays and called rensa-geki (combined play). I do think the Okinawan theatres today should revive such combined plays on stage, just like how it was back then.
Kinjo Tetsuo, the creator of Ultraman, also made a film in 1961 called Yoshiya Chiru Monogatari (The Tale of Yoshiya Chiru) using actors from the Okinawan theater, a work he made when he was just 24 years old, before entering the Tsuburaya Productions1. It was his maiden work, albeit a good style. Honestly, I would take my hat off to Kinjoo's passion and talent for creation.
Oh, and let's not forget the very peculiar Okinecima shot in 1956, when combined plays were popular in Okinawa: the Hollywood comedy, The Teahouse of the August Moon, a movie in which Marlon Brando portrayed an Uchinānchu2. The story was set in Okinawa right after WW2, however, it was shot in mainland Japan and Hollywood. Yodogawa Nagaharu also appeared in one scene (he even had some lines). Kyo Machiko played the role of a Uchinānchu geisha; she had only a few appearances, yet her beauty and presence were the ones of a great actress. This work is a confusing mixture of the Japanese and Okinawan worlds, while using Okinawan expressions such as "pījā" (goat), or considering the happy-go-lucky-ness of the Uchinānchu as a cause of being occupied by Japan…a likable film, seen from Okinawa.
A recent Hollywood-made Okinecima is The Karate Kid Part II (1986) (article written in 1998). The film crew came to Okinawa for location-hunting, however, the real site apparently did not look like the Okinawa they thought it was, they decided to shoot it in Hawaii. The use of denden-daiko (Japanese traditional toy drum), or the actors in Chinese-style clothing—we can see here a mishmash of the Orient even more complex than that of Teahouse of the August Moon, creating an "OKINAWA" we have never seen before. This messy monkeying of Okinawa is absurd and funny, but that apart, an awful work.
After seeing these Okinecima which do not portray Okinawa realistically, many Uchinānchu may flatly reject them that "This is not Okinawa." I used to be one of them. Such an attitude is, perhaps, the negative side of a strong local pride. A pity for the works, as well. We can not force Okinecima to depict Okinawa as it is. All it needs to do is to make it interesting while employing the people, nature, and local arts of Okinawa… be that as it may, no wonder why audiences came to see it this way: most Okinecima leave its charm as a movie behind and depend on "Okinawa" to depict, such as the pointless use of Okinawan folk songs as the background music, or illogical appearances of Kachāshī, the Okinawan dance.
In this regard, two Okinecima works directed by Kitano Takeshi, Boiling Point (1990), and Sonatine (1993) are awesome. Kitano is not too aggressive to portray Okinawa and that is why I feel no jarring, but rather a fresh sense of Okinawa depicted through his eyes. I myself would like to follow his approaches, too.
Editor's Note:
The production studio of Ultraman
An Okinawan