Okinawa Bunko (Okinawa Library)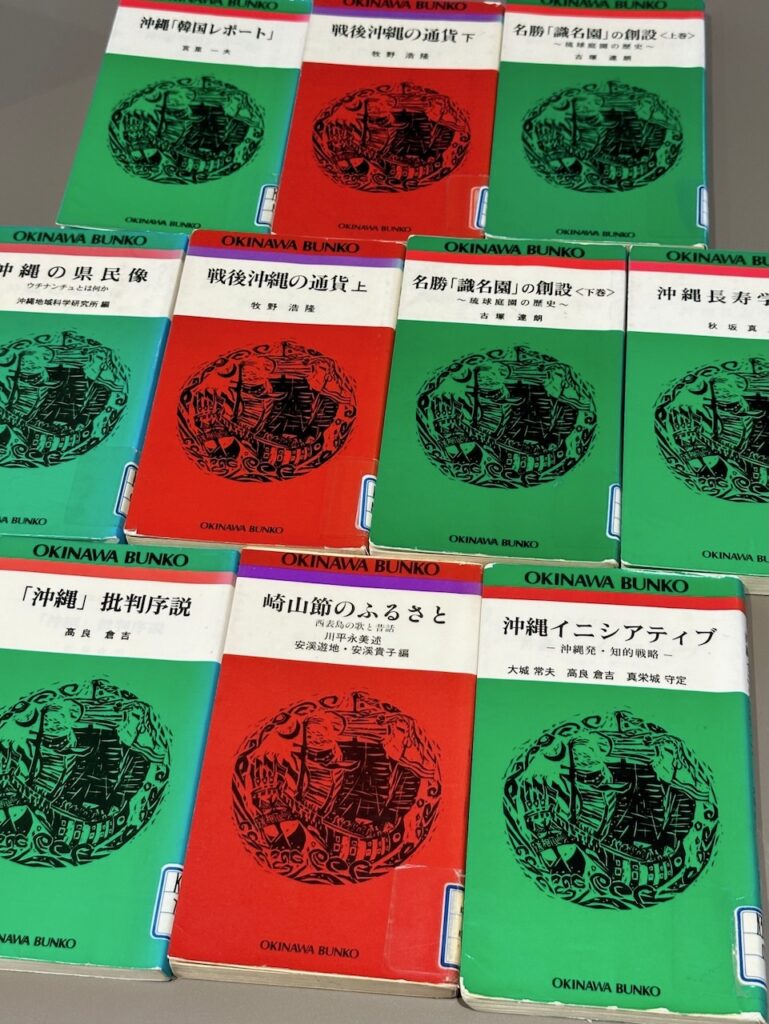 Okinawa Bunko is a series of mini encyclopedias about Okinawan life. The series is published by Hirugisha, which is located in Shuri, Naha. By the end of March 1992 there were 60 titles, all of which had been through several editions. The most popular titles include The Historical Stories of Okinawa by Takara Kurayoshi, which sold almost 10,000 copies, Looking Back at the Battle of Okinawa by Shima Tsuyoshi, and In Search of the Okinawan Soul by Ishida Joichi. The reason for publishing the series can be found in the "On Publishing Okinawa Bunko" section at the end of each title. "To shine a new light on Okinawa…There are many fruits of research and studies that should have been shared among us. But sadly, they are sleeping on the shelves and libraries that only a few can access. We carefully edit and print the achievements of writers from various fields and deliver them to people with an affordable price and beautiful design… May 15, 1982."
As a local publisher, they need to print in small editions, yet the books are all priced under 1,000 Japanese Yen. They found a new sales channel at airport shops, where half of the sales have now been made. 1992 will mark ten years since the series commenced. If you are interested in something about Okinawa, there's bound to be a title for you. (SAITO Jun)
Nothing has made a stronger connection between Okinawa and mainland Japan than Okinawa Bunko. Among the total sales to date, 70% have been made at the airport, the entrance to Okinawa, and Shuri Castle, mainly by tourists from the mainland.
The books had a deep red cover, yet by the summer of 1997, some titles began to have green covers. I was surprised to learn that the change was made because the publishing house went bankrupt. It was run by Nansei Insatsu (South-West Printing), one of the largest printing companies in Okinawa.
Hirugisha, the publishing enterprise of Nansei Insatsu, was founded by company owner Nishihira Shuei and Tomikawa Masuo, Nishihara's brother-in-law who joined the company as executive officer. The two vivid characters never gave up on their dreams.
In the early 1980s, when many of Japan's cities, towns, and villages flourished, numerous official historical documents of the prefectures and the municipalities were published, yet they were quite difficult to read and were in limited editions. Founded as a publishing house, Hirugisha tried to "create a more affordable and easy-to-read version that high school graduates can enjoy." They were priced under 1,000 yen and used the same red cover to reduce printing costs.
Their pricing was epoch-making as most books by Okinawan publishers were quite expensive at the time. The bimonthly publishing schedule was also considered revolutionary in Okinawa.
The first book in the series was Nishizato Kikou's Temporary Merchants of Modern Okinawa, which was published in 1982. The publisher's thoughts are evident in the text printed at the end of every book: "To shine a new light on Okinawa… That will be our thriving endeavor." They were determined to create a library solely focused on Okinawan culture and history.
The publishing project grew larger, yet it began to decline in the 1990s. The collapse of Japan's economic bubble affected Nansei Insatsu significantly, and after Nishihira's death in 1996, the company went bankrupt. Hirugisha also went bankrupt and at that time, it had published 78 books.
However, Okinawa Bunko was saved by the monetary contributions led by Takara Kurayoshi, a professor at Ryukyu University, who called for contributions of 20,000 yen per person. With that fund, the new Hirugisha was launched with Tomikawa as the new owner. Their office moved from Shuri to Higashimachi, Naha. The new books were given green covers to differentiate them from the older titles.
Without its parent company, Hirugisha will have difficulty in distributing affordable books like they used to do. However, Tomikawa has a firm will to sell books that may seem timid, but are in fact the fruits of long and patient studies and research. For this he should be seen as a great example of a publisher.1 (OKUNO Shuji)
Editor's Note:
After the demise of Tomikawa Masuo in 2001, Okinawa Bunko stopped its activities and most got out of print. In 2012, Ms. Akiyama Natsuki—who was fascinated by this publication—found Okinawa Bunko Inc. to realize the e-book of Okinawa Bunko as Okinawa eBooks.