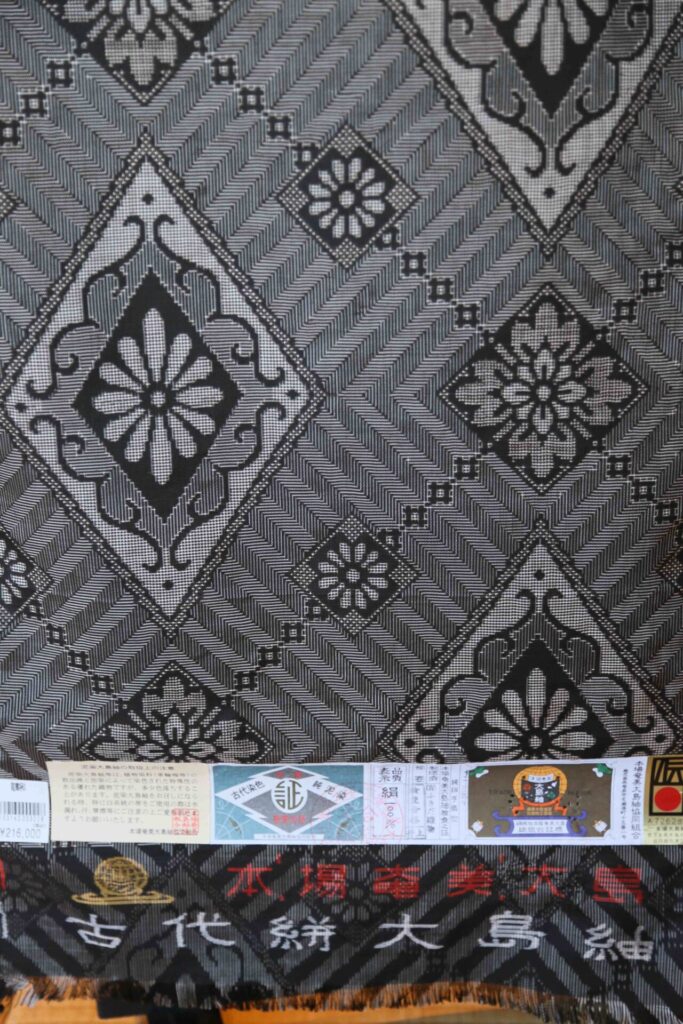 A type of fabric. Albeit the fact that it is also made in Kagoshima or Miyazaki prefecture, in this "encyclopedia," we will introduce the Honba Amami Ōshima Tsumugi.
It is said that we could hear the loom working in every household on the islands surrounding Naze City to weave this fabric with a history of over a thousand years. It is said to share the same origin as the kasuri1 which has been brought in from India to all of Japan via the Kume Island of Okinawa. Just like how the Ikat in Indonesia— its sibling— has its unique pattern for each village and each island, Ōshima Tsumugi also has a characteristic design for each village.
While it has suffered an arduous age since the last War (in which the documentation was lost in a fire caused by air raids), and the 8 years of separation from mainland Japan during the postwar period, Amami Ōshima Tsumugi was brought back to life.
In order to be approved as the Honba Amami Ōshima Tsumugi, it has to be 100% silk, kasuri patterned using the shimehata2, dyed before weaving and with only natural dyes such as mud or indigo, and woven by hand. As might be expected, it is mainly used for kijaku, a cloth for kimono.
The binding technique using the shimehata was invented in 1907. Cotton yarn is set as the warp, while the weft is a very fine silk yarn (with a thinness of a third of a millimeter) of even tension, length, and twist. Every few wefts are bundled and packed with glue, then are passed through from both sides and tightened according to the design of the pattern. 5 to 6 kilograms of weight is said to be put on in this step and the cotton yarn plays an important role in preventing the dye to penetrate into the silk yarn it binds. This tightening is a man's job, since the old days to this day.
The bound yarn is called mushiro. Then it's repeatedly dyed with sharinbai3 and rice field mud until it's set on a loom called takabata.
As proof of its delicacy, Ōshima Tsumugi only weighs 450 grams per roll, and thus produces a sheen, smooth and light kimono.
Fewer and fewer people wear traditional Japanese clothing; it is a hard time for anyone. As for the Ōshima Tsumugi, its hourly wage is said to be about 250 JPY when converted into hourly pay, which makes the education of successors even more strenuous. Many searches for a solution to the stagnating demands by using colored yarns or changing the patterns to fit a full dress. Nonetheless, I feel the essence of Ōshima Tsumugi lies in the black or dark brown of mud-dye, or the grace in the mud indigo; perfectly fashionable.
As far as I see, men's Japanese clothing with a classic pattern is more modern. Matching outfits with a lover or a friend from the same roll would also be chic.
Many kinds of Ōshima Tsumugi are on the market; if you are looking for a real one, check the letters "本場奄美大島紬," the globe label, the trademark "古代染色純泥染" and the pass certificate at the end of the roll. Otherwise, do not be stern and try out one reasonably priced.
Contact Central Amami-Oshima Island Tsumugi Cooperative Society General Affairs: 0997-52-3411
Editor's Note:
A Japanese term for Ikat.
A machine to bind the yarn to make the patterns.
Rhaphiolepis umbellata.