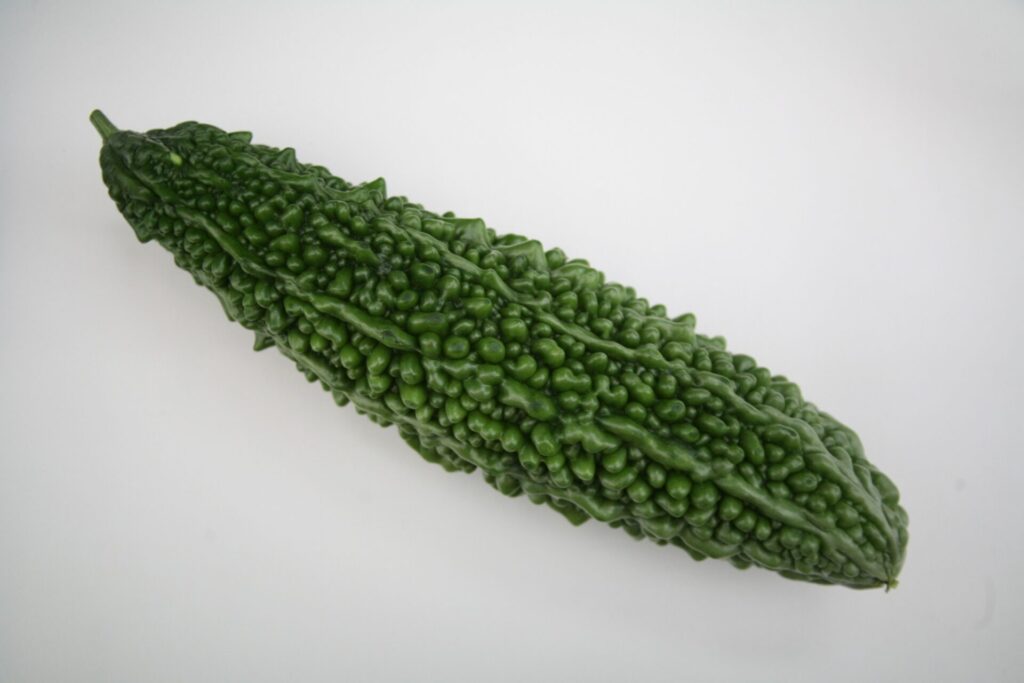 If I had to name one vegetable to represent Okinawa, it would be goya. That wild look covered with knobbles, and that deep dark green color. Every time I see a goya, this color makes me think that it is truly the son of the sun. It may be because of greenhouse cultivation, but I have recently been seeing some strangely light-skinned goya. Is this perhaps the Yamato-nization1 phenomenon of the goya? I would like to stand firm against this.
When you cut it vertically, you will see the rather bulky seeds and pith. Scrape them off and cut the goya into thin semicircle slices, and make a chanpurū (stir-fry) with tofu. As described in its other name—bitter melon—they are quite bitter. If you want to lessen this bitterness, pour over a beaten egg to finish.
There is one more splendid way to eat the goya as a salad. Slice it as thin as you can, wash it with salt water, and cool it with ice water. Pile up a mountain of katsuobushi2 on top of the well-chilled goya, and add a drop of soy sauce (and vegetable oil if you like) to serve. A refreshing bitterness with some crispness: a perfect salad for summer.
Goya used to be a plant grown on a trellis placed near the windows to cover from the grilling sun of summertime. Before anyone knew, it has become an indispensable summer vegetable, when there are fewer harvests. No wonder why it still carries in itself some traces of the wilderness.
Editor's Note:
Yamato means mainland Japan.
Flakes of dried bonito.