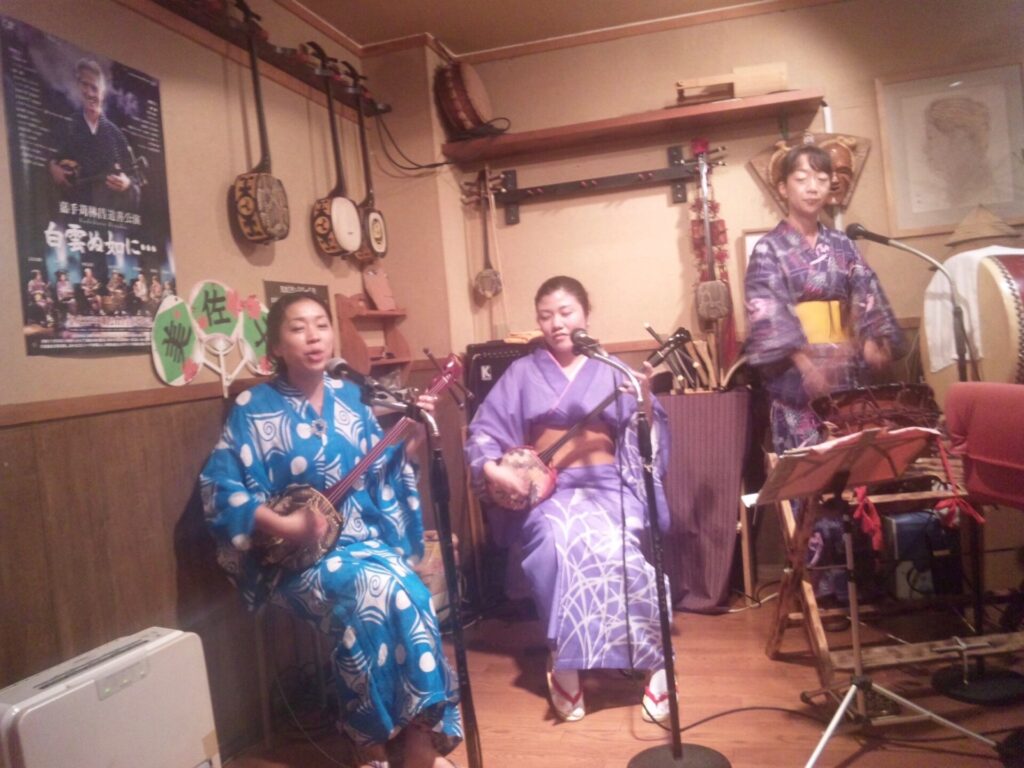 A minyō-sakaba is a pub where you can see live performances of Ryukyu folk songs, and even sing yourself if you like. Most well-known traditional folk singers in Okinawa have their own pubs. Sometimes these places are called minyō clubs and many can be found in Koza, a district in the center of Okinawa Island. The entrance costs around 1,500 yen, which includes a drink and a snack. If you want to have a fun night in Okinawa, you should visit a minyō-sakaba.
If someone visits one of these places full of anticipation but returns saying, "It was rather disappointing," it's generally because their timing wasn't right. By 10pm, the pub is usually still empty and the singers will be drinking at the counter, not yet ready to do their work. By 11pm, two or three groups will arrive. By midnight, the place will suddenly be filled with customers. By 1am, the pub will be full and some of the more vigorous customers will come to the stage, trying to get hold of the microphone. A minyō-sakaba only becomes energetic after midnight.
There is no other place where the atmosphere changes so drastically before and after being filled with customers. When it's empty, everything you see, from the colorful stage decorations to the red leather chairs with white cloths on their backrests, seems rather sorrowful. But once the customers start to gather, it becomes the most cheerful space filled with lively performances. Seeing the transformation is like watching magic.
In the Yorimiya area of Naha, there once was a pub called Umuyā-gwā. A place with the same name still exists, but it's completely different as the owner has now changed. The most exciting thing about the pub was its customers. As they could use the dressing room to get ready and put on makeup, countless customers, enthusiastic about showing their performances, would come to the pub. An elderly man, whose son drove him to the pub and back twice a week, loved to perform with red-painted cheeks. A fearful woman, who would shout "You suck!" to unskilled performers, was nicknamed "Noriko Awaya," after the singer known for her harsh criticism of other singers, including amateurs. I often saw an old woman with a bent back coming in after midnight, a time when most of the elderly people would usually be asleep in mainland Japan. As she took a seat at the end of the counter, the bartender would quietly place a glass of oolong tea in front of her. It was her daily routine to drink the tea and watch the performances. 
The people who worked at Umuyā-gwā told me that it was terrifying to witness customers who were much better performers than they were. Okinawa is a place where professionals and amateurs compete fiercely to improve their skills. It is not a handful of geniuses who support and improve the entertainment culture, but the accumulation of performances by unknown performers. That's what I learned at minyō-sakaba.